Naga Baba Mahant Shri Harish Giri
He was born in agriculture farmer family and his early childhood was wonderful years of inner experiences and his family members were unable to understand. He used to keenly observe and love to be with the nature. Once he came across his Guru and continued inner journey and he was initiated in Naga Sanyasi Prampara at Aahavan Akhada, Prayagraj. After getting Digamber Diksha and attaining higher level in sadhana, his master blessed him to serve the humanity and gives him bigger life mission. He loves mouna (Silence) with nature.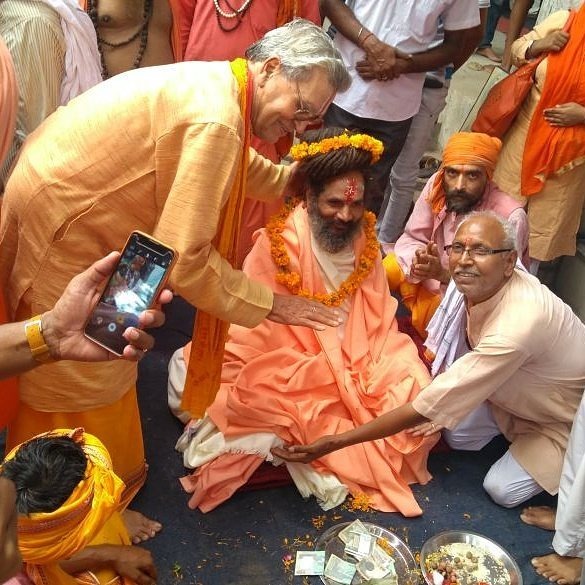 Hari hareshwar Mahadeve Ashram is located at HariHar Teela, Ramanreti, Gokul, the place where Hindu God, Krishna spent his childhood. Therefore, Gokul remains an important Hindu pilgrimage destination in India. Mathura is the place where Sri Krishna appeared as direct incarnation of lord Narayana himself. Gokula is the place where he did leelas as a small child. Killed many demons. But due to attacks of demons, all the residence of Gokula including Sri Krishna and Balarama migrated to Vrindavan and Sri Krishna Balarama grew up enough to look after cows and take them away to graze.
Harihare Mahadev Ashram is a registered charitable trust with vision and mission to promote the Vedic Education, Research in Vedic Science, promotion of Sanskrit, Ayurvedic Medicinal Plant Farms, Rural Development, Culture, heritage and Environment Preservation.
HariHar Mahadev Trust is on a mission to inspire, Educate and Empower One Lakh youths by 2030 to generate and disseminate Vedic knowledge, through a Geeta Abhayas with GouSeva and serve the society by developing youths as Karam Yogi with professional expertise with Vedic knowledge and Leadership.
 To establish Vedic Gurukulas, promoting Sanskrit languages at various places across the globe.
To meet the challenges of a complex, and modern society through Geeta Abhyasa and Yoga applications.
To promote Ayurveda way of life and develop harmonious, healthy and happy society.
To develop, enhance, and improve the quality of human by cultivating resolute moral and ethical values.
 To preserve and promote Indian cultural heritage, humanistic and spiritual values.
 To establish Schools, Colleges and Universities to empower Youths through Education, Career Skills and Leadership program
To develop a responsible and productive Youths as Karm Yogies.
To establish Center of Excellence and collaborate with various organisation to make Atma Nirbhar Bharat.
If you are a seeker for inner transformation as a Sadhaka- HariHar Ashram is the beautiful place for doing meditation practice under the guidance of our master Naga Baba Shree Harish Giri Maharaj. You will enjoy the serene peaceful lush green environment which is most suitable for learning and practicing your inner sadhana.You can stay with us or can visit as per your convenience.
You can associate with us as a volunteer in our Seva Projects.
For more details write to us:
HariharMahadevTrust@gmail.com
International Institute of Vedic Sciences
Namaste India Foundation
Swami Rama Sadhana Dhama
RasaRsishi Tantra Vidyapeeth
Rishi Vatika Ashram
CampusGuru Technologeis
Gana Foundation